Posted by on 5/29/2017 to
I found this on a really neat on www.FamilyFreshMeals.com and wanted to share it with you!
Ingredients:
1 pound ground beef (or vegetarian crumble)
3/4 cup water
1/4 cup salsa
1 envelope taco seasoning
4-6 cups tortilla chips
4 cups shredded lettuce
1/2 cup pitted large olives, sliced lengthwise
2 cups shredded cheddar cheese
2-3 cups cherry tomatoes
Directions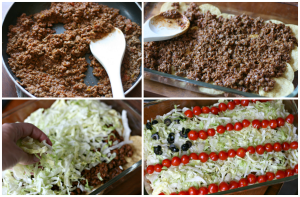 1. In a large skillet, cook beef over a medium heat until meat is no longer pink. Drain off any extra grease. Next, stir in the water, salsa and taco seasoning. Bring to a simmer and cook uncovered for about 10 minutes, or until most of the liquid is absorbed.
2. Place chips in a 13-in. x 9-in. dish. Next spread beef evenly over the top of chips.
3. Cover beef with a layer of lettuce.
4. Arrange olive slices together in the upper left corner to form stars. For the stripes, alternate tomatoes and cheese. I added a couple extra chips to the side of the dish for some extra crunch.
NOTE: If you are making this several hours in advance, I would skip placing the chips at the bottom of the taco salad and just serve them on the side.
Optional: I also like to drizzle a little bit of Italian dressing over the individual servings 🙂
Source: http://www.familyfreshmeals.com/2013/05/easy-taco-salad-flag.html#_a5y_p=1691044